5 Unique Books Dads Should Read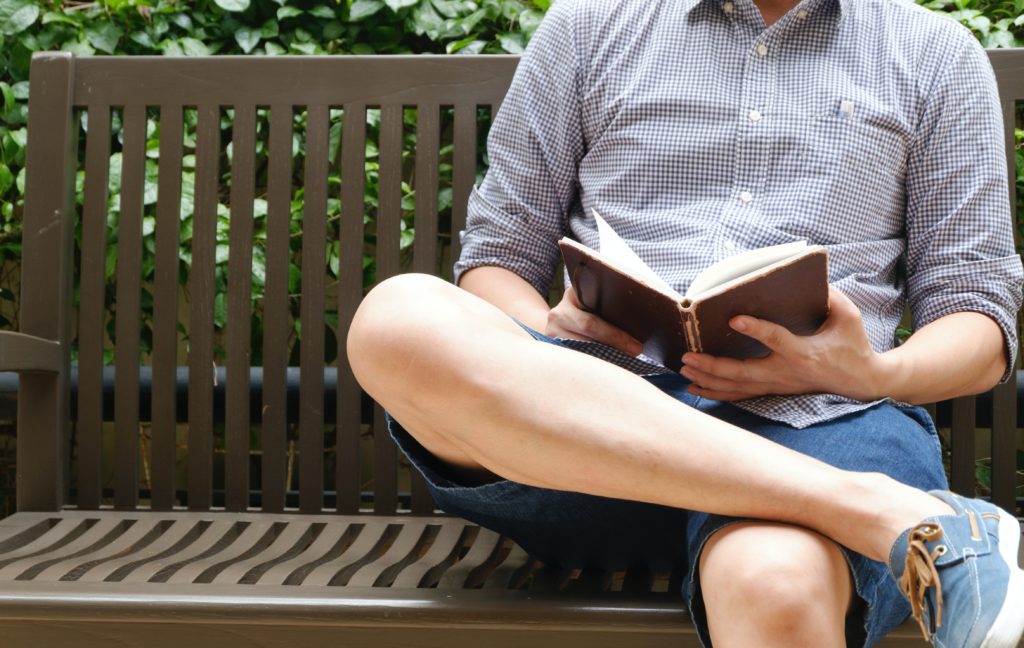 One of my favorite things to do is to climb in bed with a good book at the end of a busy day. It just puts the mind at ease and lets your troubles sort of fade away. Of course, as most of you fathers probably understand, sometimes sleep just hits you instantly after all the craziness of the day. But having a few books nearby helps keep us motivated to get in some reading during those rare quiet moments.
If you do get a chance to read now and then, here are five books that I highly recommend to all the dads I know:
Dad Is Fat by Jim Gaffigan
It seems for every 20 books published about what it means to be a mother, you can find one book about the meaning of being a good father. I enjoy the books about fatherhood that tells it like it is. Save all the romanticizing for motherhood. Fatherhood needs to be able to cut through all those rainbows and unicorns.
Jim Gaffigan is a well-known comedian that references his family and life for much of his routine. His book Dad is Fat is all about stories as a father and husband that you can probably relate to. You ever forget to pick up one of your kids from school? Join the crowd. Did your child ever lose a tooth and the Tooth Fairy forgot to come? Gaffigan has this covered.
Dad Is Fat is a rather quick read really and since it is basically a collection of short personal stories, you can certainly take a break from reading it and not worry about losing your place. It has been on the New York Times Bestseller list so after you are finished with it, just pass it on to your wife as she will enjoy it as well.
Man vs. Child: One Dad's Guide to the Weirdness of Parenting by Doug Moe
Doug Moe makes his living in the entertainment field and has been making people laugh for decades. In this instance, Moe tackles fatherhood and the weirdness that comes with attempting to parent your children of all ages. After all, as a father, you have to laugh at things that come with parenting otherwise you will turn into an OCD dad that places your child in a bubble (John Travolta style) and never lets him out.
Doug Moe (not the former NBA coach that was always screaming on the sidelines) has quite a few interesting chapters in Man vs. Child. One section, Name Your Baby Something Awesome, particularly had me laughing since one of my former students was named Brain back in the day, but his parents insisted it should be pronounced as Brian. One chapter that all of you stay at home dads should hurry to read is the It Happened to Me: I Was the Dad in a Mommy Group. While I am positive my wife would not let me join such a group, this gave me an idea of what it could be like!
Just Me and My Dad by Mercer Mayer
As a certified Reading Specialist that has helped thousands of children become better readers, I always looked for books that children could take home and read with their parents where all involved would find the text interesting. The Little Critter series was always an enjoyable read and Just Me and My Dad was one of the favorites in my classroom library.
This is a book that you will read with your young kids (ages 1-3) over and over again. In the story, the young son and his dad go on a camping trip and bond over the activities that they do such as fishing and building a campfire. One reviewer says, "it's a fun, simple book for getting the camping bug into your child at an early age."
To Kill a Mockingbird by Harper Lee
There is a good chance you were assigned to read To Kill a Mockingbird back in junior high or high school, but as an adult, you are going to look at it in an entirely different way. For example, Atticus was a single father after his wife apparently died of a heart attack when Jem and Scout were both very young. Atticus allowed his children a unique freedom and treated them like miniature adults as he raised them. It was an interesting dynamic.
On a side note, this was a best seller all the way back in 1960 and has truly held up to the test of time. After all, we all have that one weird neighbor down the street (Boo Radley) that seems a bit scary but has a heart of gold that is camouflaged by awkwardness.
As an adult, keep in mind that Harper Lee could have basically punched her own ticket after writing To Kill a Mockingbird to rave reviews. She could have been set for a long career in the world of literature and churned out novel after novel, but the story goes that she was overwhelmed by it all. Lee never married nor had any kids of her own. She only put out one more book, 55 years later, right before she died at the age of 89, but it was later stated it was simply part of the first draft of To Kill a Mockingbird that was cut out from the original book. If you are a father that loves to learn about mysteries and mysterious people, Harper Lee should be on your list to research.
The Father Effect: Hope and Healing from a Dad's Absence by John Finch
Whether we realize it or not, the way we raise our children is directly affected by how we were all raised by our own fathers back when we were kids. If we had great fathers, we may try to emulate them in each situation. On the other hand, if we had absent fathers that were a negative influence on our lives, we may try to raise our own children in the totally opposite way.
The more you can come to grips with your own childhood, the better off you may be in the long run. The author, John Finch, lost his father to suicide when he was a young kid. Some of you fathers might have experienced equally troubling situations from your own childhood. The Father Effect could help you leave the past in the past and have you looking forward to the future.
What books do you recommend for dads? Leave a comment below.
Make sure to subscribe to our newsletter to get the latest content and updates!