Turn Down Time into a Family Reconnecting Opportunity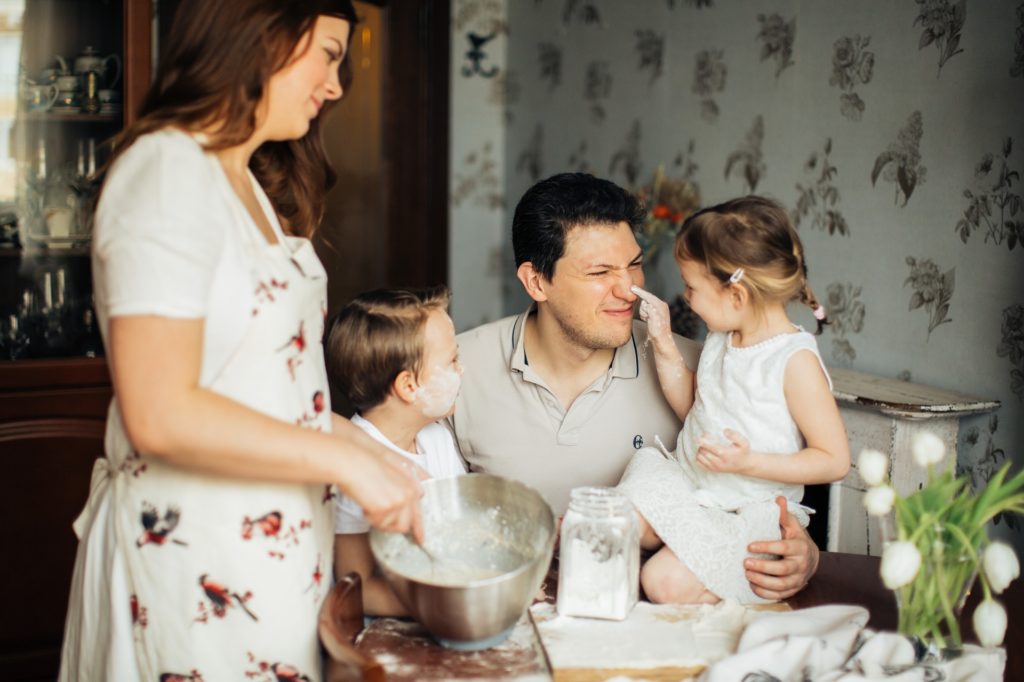 Recuperating after surgery, being between jobs and sheltering in place during an emergency are all examples of situations when a father might be spending more time than usual at home. In addition to catching up on household repairs, these sometimes-lengthy respites away from the workplace can be the perfect opportunity for dads to enjoy more quality time with their families.
If this down time is due to circumstances that are instilling fear in the minds of your children, as their father they will look to you as a source of strength and comfort. Take advantage of these potentially stressful times to reconnect with them. If you're a loving father who's currently in this situation, here are some creative ways to turn down time into a fun bonding experience with those you care about the most.
Note: As an Amazon Associate DAD.co earns from qualifying purchases. This supports our mission, thank you!
Indoor Activities
If you're stuck inside, there are a lot of fun indoor activities that parents can do with their kids until things change. But first, set daily limits for how much time your children spend playing video games or chatting online with friends- even if they resist at first.
Once that's done, here are some indoor family activities to try:
Play board games like:
Or play card games like:

Exploding Kittens (yes, you read that right, this one is VERY popular)
Go Fish (Classic!)
Hearts

Assemble a large jigsaw puzzle together.
Join your kids for some interactive video games like Wii Sports or Guitar Hero.
Listen to some old CDs (or really old records) and discuss the history of the musicians and groups.
Exercise together as a family.
Take turns writing letters that you then mail to homebound loved ones or military service members stationed abroad.
Cooking & Baking
Nothing promotes family bonding quite like preparing some meals together. Make cooking into a team effort by trying out new recipes and then ask each family member to carry out one of the tasks. Measuring out ingredients can become a fun math learning exercise, while discussing the importance of using a meat thermometer can be an educational science project.
Baking and decorating some cookies is also a fun way to bond as you unlock each member's creativity. And, sitting down and sharing the "fruits" of your kitchen labor afterwards will help keep you all connected and your stomachs content.
Movie Night
Instead of watching all the negative TV coverage, pick out some age-appropriate movies from your collection, curl up as a family in the living room and share a big bowl of popcorn. Make it into a weekly "movie night" with each person taking turns picking out their favorites. Watching movies together is an effective way to escape from life's sometimes harsh realities for a while.
Arts & Crafts
Tap into each person's artistic abilities by doing some arts and crafts projects together. Here are some creative activities that your family members might enjoy:
Painting with watercolors and then framing and hanging up your "masterpieces"
Arranging family photos in a scrapbook
Sketching or coloring
Sewing a quilt out of old material
Making Christmas ornaments
Assembling gift baskets that you later hand out to seniors at a local nursing home
Creating handmade greeting cards and mailing them to long-distance relatives
Camping
When you were a child you probably created a makeshift tent out of a blanket which then became your new "hideout" from the outside world. Turn you living room into an outdoor adventure by creating a "campsite" for your kids. Get out the sleeping bags and flashlights so that it's more realistic, turn out the lights and then roast hotdogs and S'mores in the fireplace.
Reading
Most kids don't read enough, so set aside some of the extra time you have as daily family reading time. Reading books is a proven way to unlock a child's imagination, broaden their vocabulary and teach them about new topics at any age.
Ask your kids to pick out their favorite books and then sit down together every day to read as a family. Discuss what they've read and share some of your literary favorites. If you start running out of books at home, there are countless e-books on various topics available online.
Daily Devotionals
As Christian fathers and role models, we should always use down time opportunities to teach our children how to connect with God through daily devotionals and prayer. When you're all together as a group distraction-free you have the perfect setting for holding an open and honest conversation about our heavenly Father.
During your devotional sessions ask each person to share their favorite Bible verses and stories, and why they give them comfort. But don't be surprised if you learn something new about your faith, or the faith of your family members, in the process!
As dads, our families bring us much joy and happiness. One of the best ways to ensure that those positive relationships continue as we grow older is by constantly reconnecting with our kids. The Bible says that "A good man leaves an inheritance to his children's children". If you'd like to learn more about how to pass down a better "spiritual inheritance" to your children and grandchildren, sign up for our FREE newsletter today!