5 Amazing Benefits of Teaching Your Kid Chess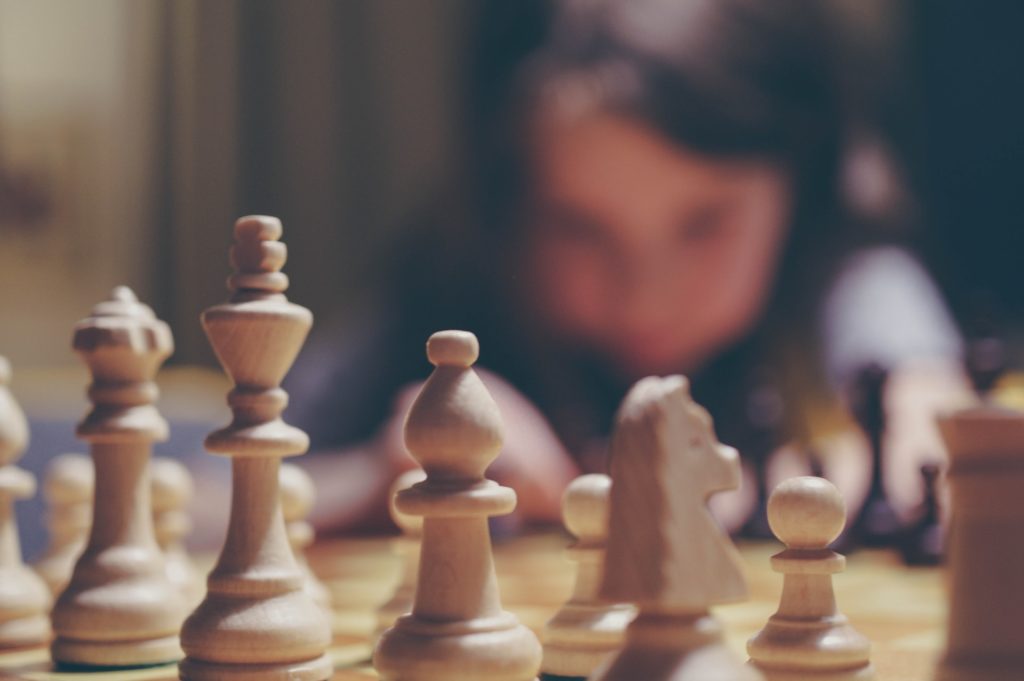 What is Chess?
According to the standard dictionary definiton, chess is a board game for two players who move their 16 pieces according to specific rules; the object is to checkmate the opponent's king.  However, I would like for you to consider chess on a much larger scale because to me "CHESS is LIFE." Do you think I am being over dramatic?  Maybe, but chess can teach you a lot about life. It can also be extremely valuable in the development of a child's thinking and development.
How Popular is Chess Around the World?
During this time of isolation, I suggest that dad's take this opportunity to teach their children the wonderful world known as chess.  It is incredibly fun!  It can be played by ALL ages and has infinite potential for improvement.  On top of that, it is recognized as the most popular game around the world.
According to a 2018 FIFA report, it is estimated that 265 million people worldwide play soccer, the most of any traditional sport. That is a huge number, but the World Chess Federation (FIDE) approximated that 605 million people play chess. That's more than double the number of soccer players! "Chess is the sleeping giant of the sports/entertainment world", as the head of a major sports and entertainment company put it.
The Benefits of Playing Chess
There are many benefits of playing chess for kids, but here are 5 important ones (in no particular order):
Chess Improves Memory
Children who play chess significantly improve their visual memory, attention span, and spatial-reasoning ability.  I think we can agree these are important factors that help lead to success in school.
Chess Helps With Analytical Skills
The need to focus on problem solving and the process of thinking through moves can help a child's math skills. University of Memphis studies have shown that a child who plays chess (as a hobby and not on a tournament participant level) also has improved reading skills.  This is due to chess requiring a child to analyze, think and then comprehend various positions.
Chess Develops Critical Thinking
Playing chess requires many "if-then" logic analysis as well as "what-if" scenarios. These are two key factors for developing logical and critical thinking.  Chess boosts a child's creativity because during a game, since they must imagine the possible move alternatives.  This imagination process trains the mind to look at "possibilities" which is known as the "Foundation of Original Thinking".
Chess Encourages Commitment and Hard Work
Playing chess encourages and rewards hard work. Lose your focus, and you will lose a piece, and usually the game.  Study and practice, you will win more games.  Through this, a child learns they can affect their individual success by increasing their own efforts.
Chess Helps Kids With Problem Solving
Finally, (though I could go on) chess helps kids learn and practice finding solutions to complex problems known as "Tactics and Puzzles".
Note: As an Amazon Associate DAD.co earns from qualifying purchases. This supports our mission, thank you!
Final Encouragment
I hope ALL the wonderful dads out there who have taken the time to read this will step up to the plate to begin exercising and expanding their child's mind. I understand, there are many dads who do not know how to play chess. Today is the day to learn! You can buy a pretty nice chess board set on the USCF site for under $20 and get started.
And I am here to help.  If I can be of assistance, feel free to email me: Gabe@RomoChessAcademy.com  Please know, there is no question too silly or too small.
I also invite you to visit my website www.RomoChessAcademy.com There you will learn more about me and have the opportunity to answer monthly puzzles.  In addition, you will also find information for private lessons as well as testimonials from some of my students.
Thanks for reading and remember, "Every Chess Master Was Once a Beginner"