10 Ways to Serve as a Family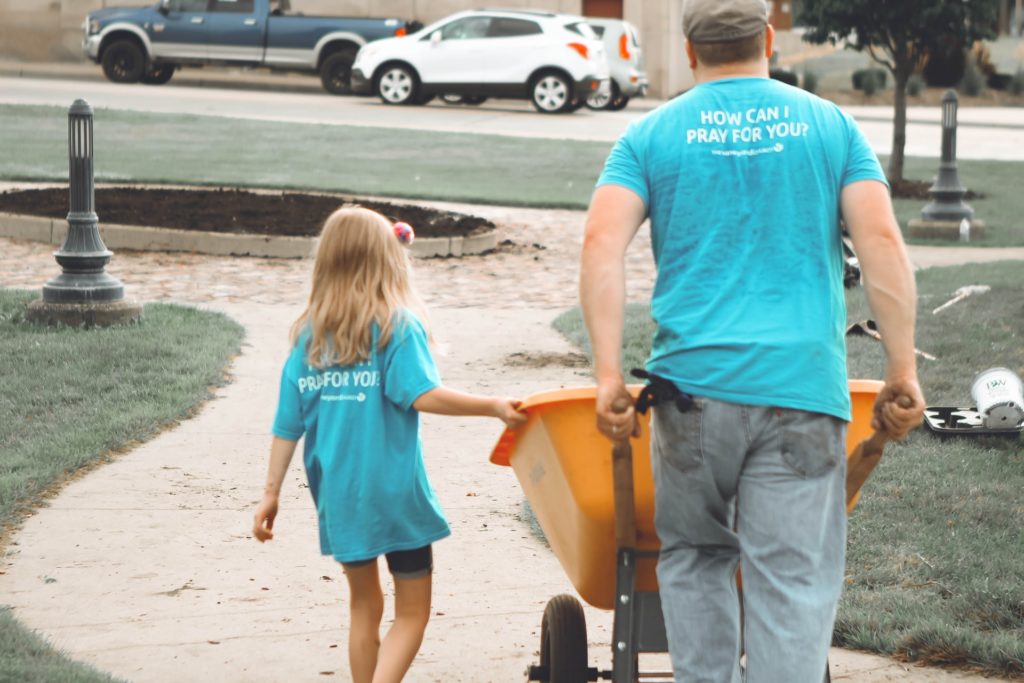 In a previous life I lived in a little town that was considered my state's unofficial capital of chicken farming. Take a drive through that fine town today and you'll smell what I'm talking about. "That's the smell of money," the farmers will tell you. When this bucolic place was home, we occasionally had a flock of chickens show up at the house intent on relaxing in the backyard for the afternoon. The group was always led by a black and white rooster. While he was much smaller than the hens, the scrawny rooster had command over everything in his path from cats to small children. Lowering his head and squawking at all obstacles, the rooster acted like he was 200-pound Goliath, not a 2-pound yard bird. The kids probably had the impression that all homes needed a rooster and a company of hens.
Recently, one of my three referenced that old flock as she announced that we must construct a chicken coop at the house as a hedge against a limited food supply and a source of protein for those who may need it. While I was quick to list all the reasons a chicken coop and its contents couldn't come to our subdivision, I appreciated my kiddo's intent: do something proactive to support the home front and people in need. Another child made an elaborate schematic of a potential vegetable garden, with a similar intent to give the produce away to the hungry. Reflecting on these ideas after the fact, I realized that some of the most important contributions to our "life together" emanate from the ones I assume don't have the stature and experience to help. It's good to be humbled.
There's a great Old Testament story about a young person who more than compensates for small stature and inexperience by having a sturdy heart. He grabbed a stone and slayed a giant. You know this one? While I can't advise fathers to teach their kids how to engage in mortal combat like Jesse must have done for David, I do think it's important for fathers to capitalize on the kids' passion for service by creating service opportunities for the entire family. Let me suggest a few opportunities.
Note: As an Amazon Associate DAD.co earns from qualifying purchases. This supports our mission, thank you!
Begin in the Neighborhood
Great family service opportunities are often as close as next door. Reach out to senior citizens or disabled individuals in your immediate vicinity, and ask them how your family can be of service. Better yet, invite your children to do the asking. Little projects like yard work provided great experience for bigger experiences.
Help the Food Insecure
From food pantry work to food delivery through programs like Meals on Wheels, support of those with inadequate nutrition is a great service opportunity for you and the kids. Make it relational by learning about the people you are serving.
Litter Sweeps
We are not always good stewards of God's Creation. Litter sweeps that target high traffic areas like beaches and parks provide opportunities to care for natural areas, learn more about stewardship of the earth, and connect as a family.
Baby Sitting for New Parents
We all know what it's like to have a newborn in the house. The bundle of joy can render new moms and dads exhausted at the end of the day. Shadow your kids as they offer "Date Night" child care for young parents. This service teaches responsibility and the importance of supporting those undergoing challenging times.
Care Packages for Public Servants
Police officers, firefighters, EMTs, and other servants are the unsung heroes in our communities. A great way to thank these public servants is by preparing care packages in appreciation of their work. Help your kids assemble these packages by making baked goods and pairing them with candy, lotions, lip-balm, and other consumables.
Support Foster Families
Foster families often receive at-risk children in the middle of the night. These children may arrive with nothing but the clothes they are wearing. Reach out to foster care agencies and learn how you and the children can help. Gifting gently used clothing and school supplies is a good place to start.
Lemonade for a Cause
Kids love erecting lemonade stands and neighborhoods love to support them. Talk to the children about causes that are important to them and then put a lemonade business plan together to financially support the cause your children have chosen.
Serve in Your Place of Worship
Your place of worship is always asking motivated kids to help the work of the church. Maybe your child is interested in singing in worship or serving as an usher. Perhaps your kids would like to put their technical acumen to work by videoing a service or curating content on the ministry's website. Ask where your family can help. There will be numerous opportunities.
Disaster Relief
Disasters are often unpredictable and devastating. Can your children help? Absolutely. Sometimes you may have opportunities to send assistance through the submission of necessary supplies; occasionally you can directly assist by cleaning debris, refurnishing homes, or delivering meals. Find out what is available and age-appropriate for your children and get to work.
Prayer
Yes, prayer. One of the most important things you can model for your children is prayer on behalf of others. Work with your kids to develop a list of people to be prayed for daily. Pray with your children as they name the people on the list aloud. Help your kids create and send cards to the individuals on the prayer list to let them know you prayed for them by name.
Family Service Time is Time Well Spent
Your children want to serve others. This passion to care for the other can be especially strong if you've modeled service in your role as a father. Talk to your kids about the importance of serving and developing a service plan, then enjoy the time together as you tend to God's beloved people. Remember, your kids have sturdy hearts even if they have limited stature and experience. I hope you are wonderfully humbled by all that your children are equipped to do for others.